Brands
Elpress Products
Founded in the Netherlands over 40 years ago, Elpress are industry leaders in the development and production of cleaning and hygiene machines. They specialise in providing total solutions machinery for washing utensils, trays, crates and other food containers.
Made from the finest grade materials, Elpress cleaning machines promise to be durable, efficient and reliable. With safety and hygiene in mind, the machines are easy to use with amazing results.
We stock a variety of Elpress tray washers suitable for a variety of businesses, big or small. Whichever model you choose, you'll save countless hours in cleaning time.
Enquire Here
Elpress EKW1500
Tray Washer
Technical Specification
One Man Operation as Standard
Dimensions W2382mm X D1300mm X H1700mm
Power 415v Three Phase
Max Capacity 170 Crates Per Hour
Max Tray Width 600mm
Tray Height 70mm - 300mm
Water Tank Capacity 180 Litres
Pump Size 3kw
Electrical Heating 12kw (Standard)
Water Supply to Main Wash Zone 3/4 Inch
Water Supply to After Rinse Zone 1/2 Inch
Product Features
Environmentally Friendly
Recirculating Water
Insulated Walls Prevent Heat Loss
Adjustable Nozzles and Feet
High Quality Stainless Steel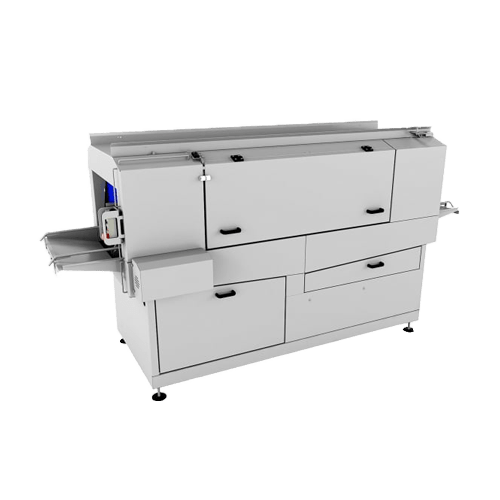 Elpress EKW2500
Tray Washer
Technical Specification
Dimensions W3390mm X D1231mm X H1600mm
Power 415v Three Phase
Max Capacity 400 Crates Per Hour
Max Tray Width 600mm
Tray Height 70mm - 300mm (400mm Option)
Water Tank Capacity 300 Litres
Pump Size 5.5kw
Electrical Heating 20kw (Standard)
Water Supply to Main Wash Zone 3/4 Inch
Water Supply to After Rinse Zone 1/2 Inch
Product Features
Environmentally Friendly
Recirculating Water
Insulated Walls Prevent Heat Loss
Adjustable Nozzles and Feet
High Quality Stainless Steel
Elpress EKW3500
Tray Washer
Technical Specification
Dimensions W4389mm X D1231mm X H1600mm
Power 415v Three Phase
Max Capacity 560 Crates Per Hour
Max Tray Width 600mm
Tray Height 70mm - 300mm (400mm Option)
Water Tank Capacity 300 Litres
Pump Size 7.5kw
Electrical Heating 30kw (Standard)
Water Supply to Main Wash Zone 3/4 Inch
Water Supply to After Rinse Zone 1/2 Inch
Product Features
Environmentally Friendly
Recirculating Water
Insulated Walls Prevent Heat Loss
Adjustable Nozzles and Feet
High Quality Stainless Steel
Elpress EKW5000
Tray Washer
Technical Specification
Dimensions W5889mm X D1231mm X H1600mm
Power 415v Three Phase
Max Capacity 800 Crates Per Hour
Max Tray Width 600mm
Tray Height 70mm - 300mm (400mm Option)
Water Tank Capacity 300 Litres
Pump Size 7.5kw
Electrical Heating 30kw (Standard)
Water Supply to Main Wash Zone 3/4 Inch
Water Supply to After Rinse Zone 1/2 Inch
Product Features
Environmentally Friendly
Recirculating Water
Insulated Walls Prevent Heat Loss
Adjustable Nozzles and Feet
High Quality Stainless Steel