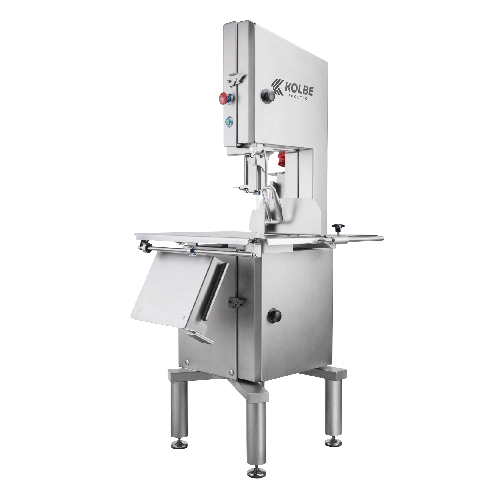 Brands
Kolbe Products
Operating for over 65 years, Kolbe is a German-based manufacturer specialising in meat mincing equipment. They produce high-quality, reliable and durable butchery technology for a range of businesses and requirements.
Their mincers, mince portioner machines and mixer grinders have all been made in the same factory, undergoing rigorous quality checks to ensure each product meets their exacting standards. The machines are known for their consistently good results, saving time and money in production.
We're proud to stock a variety of Kolbe products, including the Kolbe Floor Standing Range, SW100 range, Mixer Grinder range and the PM150 portioner.
Enquire Here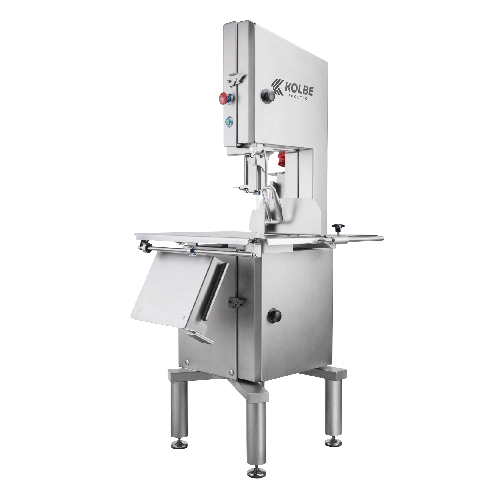 Kolbe K330S
Floor Standing Bandsaw
Technical Specification
Machine Dimensions W749mm X D815mm X H1762mm
Wheel Diameter Size 300mm
Blade Size 2490mm X 16mm
Blade Speed 22 m/s
Cutting Height Passage 306mm
Cutting Side Passage 282mm
Section of Portioning 5mm - 270mm
Table Dimensions 590mm X 765mm X 910mm
Sliding Table Size 315mm X 351mm
Three Phase
Product Features
Sliding Table
Single Easy to Clean Blade
Product Pusher
Four Height Adjustable Stainless Steel, Anti Vibration Feet
Quick Tensioning Device
Precise Upper and Lower Blade Guide (Removeable Without Tools)
Kolbe K380RS
Floor Standing Bandsaw
Technical Specification
Machine Dimensions W924mm X D960mm X H1856mm
Blade Size 3070mm X 16mm
Blade Speed 28 m/s
Cutting Height Passage 340mm
Cutting Side Passage 357mm
Section of Portioning 5mm - 345mm
Table Dimensions 757mm X 900mm X 910mm
Sliding Table Size 400mm X 900mm
Three Phase
Product Features
Sliding Table
Single Easy to Clean Blade
Product Pusher
Four Height Adjustable Stainless Steel, Anti Vibration Feet
Quick Tensioning Device
Precise Upper and Lower Blade Guide (Removeable Without Tools)
Kolbe K430S
Floor Standing Bandsaw
Technical Specification
Machine Dimensions W1027mm X D1012mm X H1970mm
Blade Size 3370mm X 16mm
Blade Speed 32 m/s
Cutting Height Passage 400mm
Cutting Side Passage 412mm
Section of Portioning 5mm - 400mm
Table Dimensions 840mm X 960mm X 910mm
Sliding Table Size 437mm X 429mm
Three Phase
Product Features
Sliding Table
Single Easy to Clean Blade
Product Pusher
Four Height Adjustable Stainless Steel, Anti Vibration Feet
Quick Tensioning Device
Precise Upper and Lower Blade Guide (Removeable Without Tools)
Kolbe K440RS
Floor Standing Bandsaw
Technical Specification
Machine Dimensions W1057mm X D1030mm X H1970mm
Blade Size 3370mm X 16mm
Blade Speed 32 m/s
Cutting Height Passage 400mm
Cutting Side Passage 412mm
Section of Portioning 5mm - 400mm
Table Dimensions 879mm X 970mm X 910mm
Sliding Table Size 467mm X 970mm
Three Phase
Product Features
Sliding Table
Single Easy to Clean Blade
Product Pusher
Four Height Adjustable Stainless Steel, Anti Vibration Feet
Quick Tensioning Device
Precise Upper and Lower Blade Guide (Removeable Without Tools)
Kolbe TW100
Tabletop Mincer
Technical Specification
Table Top
W900mm X D540mm X H700mm
Product Per Hour 950kg
Motor Power 4hp
Weight 97kg
Stainless Steel
Product Features
Complete Stainless Steel Body
Easy to Clean Using Hose
High Visibility On/Off Switch for Safety
Kolbe SW100FS
Standing Mincer
Technical Specification
Floor Standing
W900mm X D540mm X H1115mm
Product Per Hour 950kg
Motor Power 4hp
Weight 97kg
Stainless Steel
Product Features
Complete Stainless Steel Body
Easy to Clean Using Hose
High Visibility On/Off Switch for Safety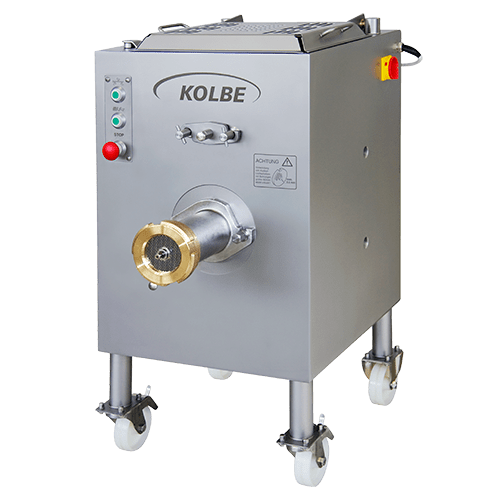 Kolbe MWK32-45
Mixer Grinder
Technical Specification
Dimensions w635mm x d879mm x h1190mm
Hopper capacity 45 litres (20-60lbs)
Throughput 950kg/hr
Single Phase or Three Phase
Weight 260kg
Product Features
Enterprise 32 Mince Head - Delivers High Definition Cut of Fresh Meat
Combi Spanner for Easy Dismantling
Safety Interlocked Lid Contains Viewing Grill for Health & Safety
Completely Mobile with Two Fixed and Two Swivel Castors
Push Button Control
Stand, Funnel and Mixing Paddle Made from Stainless Steel
Mincer Housing, Worm and Locking Nut Made of Stainless Steel
Kolbe PM 150
Mince Portioner
Technical Specification
Dimensions W616mm X D1407mm X H1385mm
Portioning Cross Section 75mm X 150mm
Conveyor Belt Dimensions 200mm X 2435mm
Three Phase
Portioning Length 60mm-280mm
Portion Weight 200g-800g
Weight 141kg
Product Features
Patty Pressed Minced Meat Formed with Structured Surface (Length Adjustable)
Free Flow Minced Meat in Free Flow Type
Easy to Clean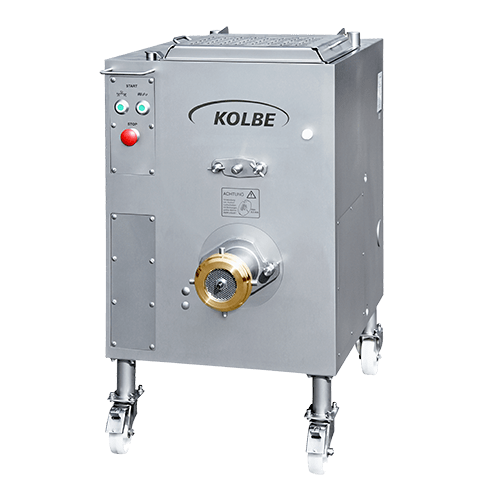 Kolbe MWK32-80
Mixer Grinder
Technical Specification
Dimensions w685mm x d1237mm x h1325mm
Hopper capacity 80 litres (130-160lbs)
Throughput 1100kg/hr
Single Phase or Three Phase
Weight 420kg
Product Features
80 Litre (130-160lbs) Hopper Capacity Ideal for Mixing and Mincing Medium Amounts of Produce with Minimum Waste
Enterprise E32 Series Mince Head - Delivers High Definition Cut of Fresh Meat
Combi Spanner for Easy Dismantling
415v Three Phase Standard - Delivering 4hp (Note: Single Phase Available)
Safety Interlocked Lid - Contains Viewing Grill for Health & Safety
Completely Mobile with Two Fixed and Two Swivel Castors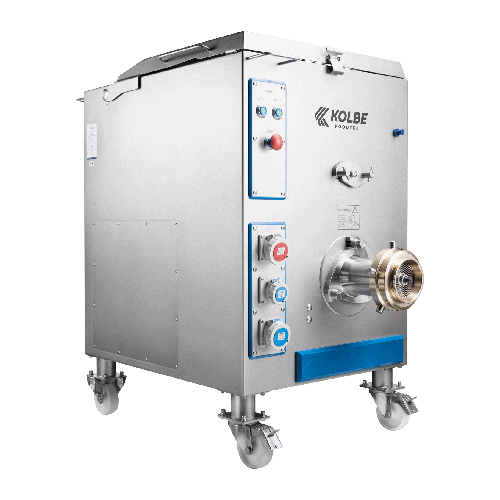 Kolbe MW52-120
Mixer Grinder
Technical Specification
Dimensions W923mm X D1350mm X H1345mm
Hopper Capacity 120 Litres (240lbs)
Throughput 1700kg/Hr
Three Phase
Weight 495kg
Product Features
120 Litre (240lbs / 109kg) Hopper Capacity-Ideal for Mixing and Mincing
Large Amounts of Produce with Minimum Waste
Enterprise E52 Series Mince Head - Delivers High Definition Cut of Fresh Meat
Combi Spanner for Easy Dismantling
415v Three Phase Standard - Delivering 4hp (Note: Single Phase Available)
Safety Interlocked Lid - Contains Viewing Grill for Health and Safety
Completely Mobile with Two Fixed and Two Swivel Castors
Kolbe MW56-200
Mixer Grinder
Technical Specification
Mixer Motor 2HP
Main Drive Motor 24HP
Throughput 2250kg/Hr
200 Litre Hopper
Three Phase
Weight 825-925kg
Product Features
Integrated step
Push button controls
Variable speed on both mix and mince drive
Safety hood