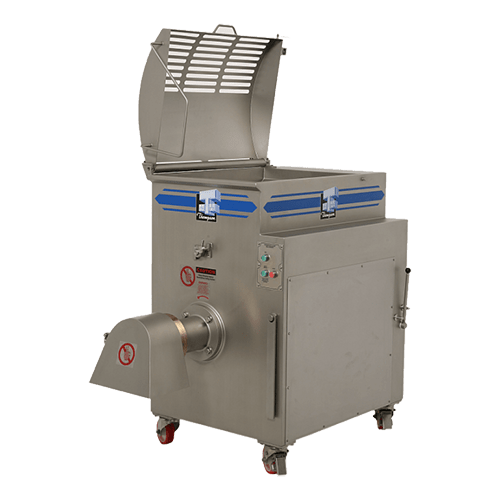 Mixer Grinders
Thompson 4200
£25,212.00
(£30,254.40 inc. VAT)
Item in Stock
The Thompson 4200 is used extensively in high production facilities, it is renowned for its outstanding performance and reliability. The construction of the 4000 series is robust and built to last, due to being manufactured from high quality stainless steel. This machine has a strong structured framework, which supports a thick gauge mixing bowl and panels. The bowl is fully seam welded both inside and outside for rigidity. Within the reciprocating mixing paddle cycle, product is free tumbled from top to bottom and from corner to corner within the bowl to deliver a very homogeneous mix within a short time period and the forward and reverse paddle action avoids overmixing of fresh meat and meat down to minus 4 degrees. The safety interlocked lid is a standard feature on all machines incorporated with a maximum stop time on the machine cycle, limiting any possibility of human interference with rotating parts.
There are also available Gemini Systems which is the connection of two Machines to incorporate a continuous system or process. Connecting a Primary Machine for the Primary cut, the ground product is then fed to the Secondary machine continuously for secondary processing. The Gemini system is an ideal solution for continuous grinding of one product at high volume production. Options: Stand to allow discharge into toe bin, 200lt stainless steel tote bin lift, Mix timer can be fitted, ingredient chute can be fitted, Gemini system can be supplied.
Product Features
A Safety Interlocked Discharge Guard Is Also A Standard Feature.
The Feed Screw Ejector Is A Standard Feature
Standard Height Machines Are Designed for Ergonomic Low Load Heights.
On the Raised Machines (Built For 200L Bin Feed and Discharge) The Inspection Step and Optional Platform Are Safety Interlocked
It Can Also Be Offered with Optional Lid or No Lid and Inspection Mirror.
Technical Specification
Dimensions L1819mm x W774mm x H1410mm
Hopper Capacity 390 Litres
Mix Capacity 200 kg
Head size 56
Production rate up to 4000kg/hr
Voltage 415
3 Phase
Mince motor 15Kw (other motors available)
Weight 770kg