Brands
Hoonved Products
Founded in Italy over 50 years ago, Hoonved's expertise and experience in the washing system industry is second to none. They are internationally recognised as industry leaders; delivering innovative, reliable and efficient washing systems to the food processing sector.
Thanks to the commitment and talent of a long-standing workforce, Hoonved have become a benchmark in the industry and their name is a guarantee of quality.
They design, develop and manufacture a variety of models from small sub-basins to large traction machines. From specialist butchers to supermarkets and large restaurants, there's a Hoonved machine for every business.
Enquire Here
C90E BT
Utensil Washer
Technical Specification
Dimensions W620mm X D742mm X H1395mm
Internal Wash Space W500mm X D600mm X H500mm
Three Phase
Boiler Capacity 10.5 Litres
Water Consumption Per Cycle 4 Litres
Product Features
All Parts Made of Stainless Steel and High Quality Polyacetal
Double Panelling Structure
Stainless Steel 304
Rounded Interior for Ease of Cleaning
Suction Pump Filter To Protect Wash Pump
Fully Electric Digital Display
Four Washing Cycles
Break Tank Standard on All Models
Set of Racks as Standard
HD40 BT
Utensil Washer
Technical Specification
Dimensions W720mm X D858mm X H1712mm
Internal Wash Space W540mm X D660mm X H650mm
Three Phase
Boiler Capacity 10.5 Litres
Water Consumption Per Cycle 4.5 Litres
Product Features
All Parts Made of Stainless Steel and High Quality Polyacetal
Double Panelling Structure
Stainless Steel 304
Rounded Interior for Ease of Cleaning
Suction Pump Filter To Protect Wash Pump
Fully Electric Digital Display
Four Washing Cycles
Break Tank Standard on All Models
Set of Racks as Standard
HD80 BT
Utensil Washer
Technical Specification
Dimensions W996mm X D915mm X H1870mm
Internal Wash Space W810mm X D700mm X H650mm
Three Phase
Boiler Capacity 10.5 Litres
Water Consumption Per Cycle 5 Litres
Product Features
All Parts Made of Stainless Steel and High Quality Polyacetal
Double Panelling Structure
Stainless Steel 304
Rounded Interior for Ease of Cleaning
Suction Pump Filter To Protect Wash Pump
Fully Electric Digital Display
Four Washing Cycles
Break Tank Standard on All Models
Set of Racks as Standard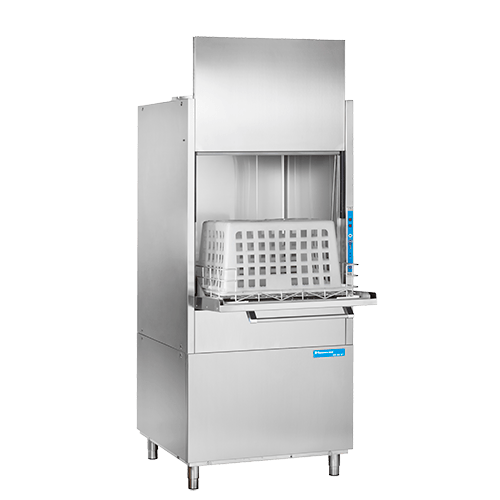 HD60 BT
Utensil Washer
Technical Specification
Dimensions W836mm X D915mm X H1870mm
Internal Wash Space W650mm X D700mm X H650mm
Three Phase
Boiler Capacity 10.5 Litres
Water Consumption Per Cycle 4.5 Litre
Product Features
All Parts Made of Stainless Steel and High Quality Polyacetal
Double Panelling Structure
Stainless Steel 304
Rounded Interior for Ease of Cleaning
Suction Pump Filter To Protect Wash Pump
Fully Electric Digital Display
Four Washing Cycles
Break Tank Standard on All Models
Set of Racks as Standard
HD130 BT
Utensil Washer
Technical Specification
Dimensions W1506mm X D915mm X H1870mm
Internal Wash Space W1320mm X D700mm X H650mm
Three Phase
Boiler Capacity 14.5 Litres
Water Consumption Per Cycle 8 Litres
Product Features
All Parts Made of Stainless Steel and High Quality Polyacetal
Double Panelling Structure
Stainless Steel 304
Rounded Interior for Ease of Cleaning
Suction Pump Filter To Protect Wash Pump
Fully Electric Digital Display
Four Washing Cycles
Break Tank Standard on All Models
Set of Racks as Standard
EDI13 A BT
Utensil Washer
Technical Specification
Dimensions W1500mm X D915mm X H2305mm
Internal Wash Space W1320mm X D700mm X H820mm
Three Phase
Boiler Capacity 11.5 Litres
Water Consumption Per Cycle 8 Litres
Product Features
All Parts Made of Stainless Steel and High Quality Polyacetal
Double Panelling Structure
Stainless Steel 304
Rounded Interior for Ease of Cleaning
Suction Pump Filter To Protect Wash Pump
Fully Electric Digital Display
Four Washing Cycles
Break Tank Standard on All Models
Set of Racks as Standard