Brands
ABM Products
Founded in 1971, ABM is an Italian company originally known for manufacturing food slicers for the commercial food processing industry. ABM later expanded their range to meet the demand of the food industry; manufacturing machines for portioning, forming and shaping burgers, meatballs and steaks.
We stock a range of ABM products, including meat slicers and their revolutionary meatball and burger shaping machines - known to save operators countless hours in production. The machines are embellished with a "Made in Italy" mark and are known for their high-quality standards, reliability and efficiency in production as industry leaders.
We have enjoyed being the UK sole importer for ABM since 2000 and we're proud to stock such a prestigious and popular brand.
Enquire Here
ABM F1000
Burger Machine
Technical Specification
Overall Size: W596mm x D511mm x H598mm
Hopper Capacity 10kg
Output is up to 1400 burgers per hour
3 x Safety proctection sensors
Power: 230v 1 phase with neutral
Product Features
Heavy duty motor
Easy to clean
Auto-papering as standard
Adjustable size burgers
User friendly controls
ABM F2000
Burger Machine
Technical Specification
L620mm x W500mm x H610mm
Hopper capacity 20kg
Weight 65kg
Voltage 240-1-50Hz (Single Phase)
Power 0.75kw
Product Features
Up to 2000 burgers per hour (portioned controlled)
Up to 4000 meatball portions per hour (portion controlled)
Variety of moulds available
Automatic paper feed available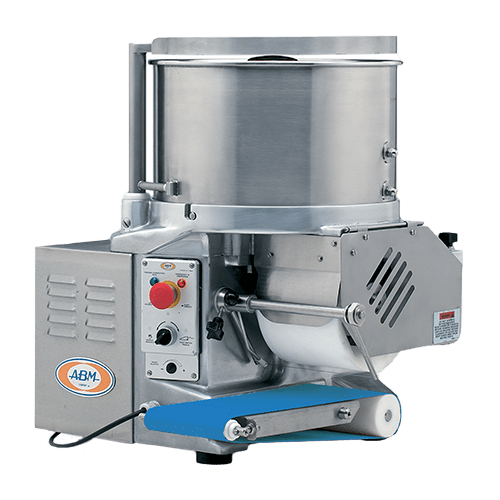 ABM F3000
Burger Machine
Technical Specification
L620mm x W500mm x H610mm
Hopper capacity 20kg
Weight 65kg
Voltage 240-1-50Hz (Single Phase)
Power 0.75kw
Product Features
Up to 3000 burgers per hour (portioned controlled)
Up to 6000 meatball portions per hour (portion controlled)
Variety of moulds available
Automatic paper feed available
ABM Unique 350C
Bacon Slicer
Technical Specification
Overall Size: W596mm X D519mm X H592mm
Hopper Capacity 10kg
Single Phase
Weight 57kg
Product Features
User Friendly and Low Maintenance
Blade Diameter 350mm (14")
Blade Speed 200 Rpm
Top Mounted Sharpener
IP65 Touch Switch
ABM Meatball
Maker
Technical Specification
Dimensions L875mm x W595mm x H1185mm (Note that the height is adjustable from 610mm)
Power 180W
Single Phase (120v ~ 220V)
Weight 70kg
Product Features
All Stainless Steel Housing
Easy on / off switching
Easy to change drum for different sized meatballs
Waterproof to IP54 standard
Supplied on castors for easy storage after use
Meatball sizes 28mm, 32mm, 38mm and 45mm
Meatball weights 10gm, 15gm, 24gm and 45gm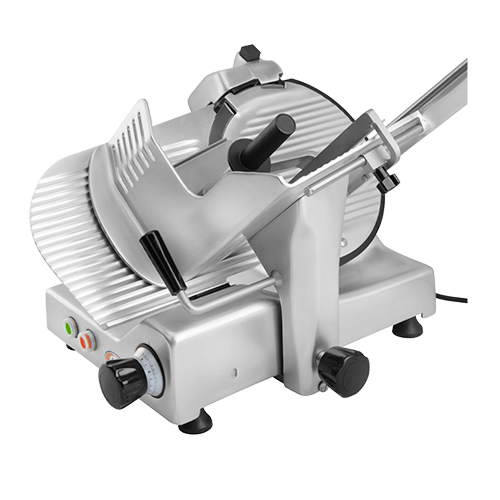 ABM 9300G Plus
Cooked Meat Slicer
Technical Specification
Dimensions: W658mm X D778mm X H658mm
Weight 35kg
Single Phase
Maximum Cutting Capacity Thickness 15mm
Product Features
User friendly and low maintenance
Blade Diameter 300mm
Blade Speed 200 rpm
Knife ring guard permanently mounted
Top mounted sharpener
Aluminium slice thickness adjuster
Low tension stop/start switch
Hand Protection
Mechanical gauge plate interlock
Waterproof to IP 55 (UNI CE 1974)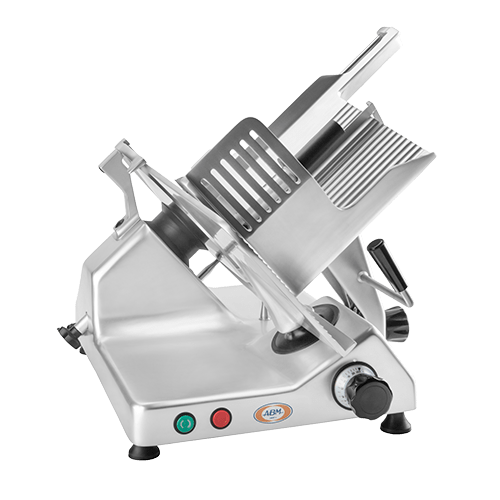 ABM Unique 350G Plus
Cooked Meat Slicer
Technical Specification
Dimensions 808mm X 718mm X 565mm
Weight 45kg
Single Phase
Maximum Cutting Capacity Thickness 20mm
Product Features
User Friendly and Low Maintenance
Blade Diameter 350mm (14")
Blade Speed 200 Rpm
Knife Ring Guard Permanently Mounted
Top Mounted Sharpener
Ip65 Touch On/Off Switches
Hand Protection