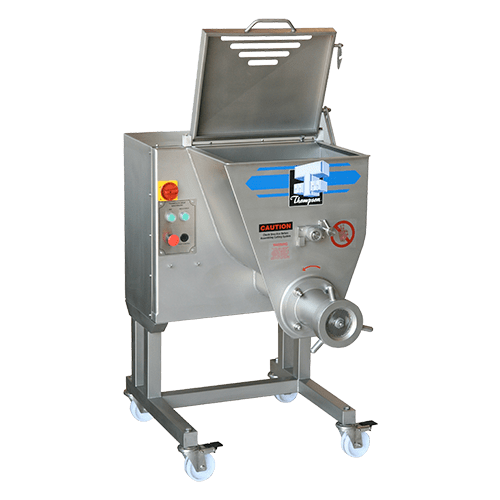 Mixer Grinders
Thompson 840
£8,250.00
(£9,900.00 inc. VAT)
Item in Stock
The Thompson 840 Mixer Grinder is packed full of features and the latest addition to Thompson's range of high performance machines. Its small footprint makes this an ideal space saver for retail businesses such as deli's and butchers that have a limited amount of floorspace.
The labour saving feed hopper is a major bonus with the Thompson 840, it means you don't have to stand and hand feed the mixer grinder. Once loaded, the 840 starts its continuous mincing operation together with its automatic mixing, which not only reduces labour, but also delivers a quality mixed product.
Product Features
Reverse Worm Feature When in Mix Mode
32 Series (90mm) Mince Head Delivers Head – Delivers High Definition Cuts of Fresh Meat
Helical Mince Drive
Powerful Performance During Operation
Safety Interlocked Lid Contains Viewing Grill for Health and Safety
Quick Release Stainless Steel Mixing Paddle Fast, Efficient and Hygienic Cleaning
Reciprocating Mixing Action Guarantees Efficient Mix and Disperse of The Product
Low Loading Height 1093mm (43 Inches)
Full Stainless Steel Body, Barrel, Feed Screw, Lock Ring and Mixing Paddle.
Technical Specification
60 Litre (40kg) Capacity
Three Phase
Weight 250kg
Floor Space 668 x 744 (Exc. Head)