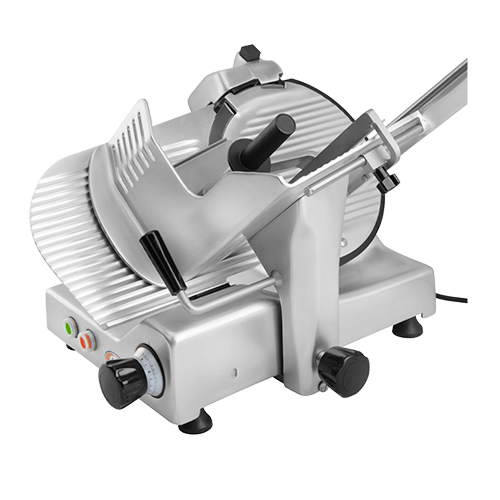 Food Equipment
Gravity Feed Slicer
J&N Food Equipment, based in the UK, are respected suppliers of a wide range of both manual and automatic gravity feed slicer machines. With both ABM and Bizerba manual and automatic machines in stock for a range of production capacities, we're sure that we'll have a slicer for your needs.
Our Bizerba A404, A406 and ABM 9300G Plus automatic machines require very minimal manual operation. Product is loaded into the machine and automatically passed through the blade, landing on a wire frame which is flipped to deposit the sliced product onto a flat surface.
Manual Bread Slicer
Manual bread slicer machines work by clamping the spiked handle onto the product and manually drawing the product back and forth across the blade. The sliced product, be it bread, meat or cheese, then falls through the blade, ready to be caught by hand or packaging.
Made from high quality stainless-steel and aluminium, the gravity feed slicer machines are easy to use, safe and easy to clean for top hygiene. With precision and reliability at the forefront of the manufacturing process, our range of food slicers are guaranteed to provide you with exceptional results time after time.
Enquire Here